Meet Our Team
Get to know our team! We look forward to seeing you and your smiles.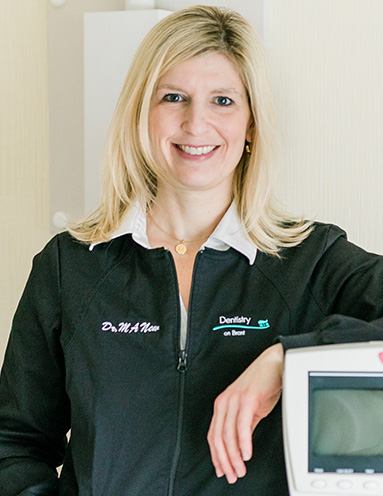 Dr. Mary Anne New
Dr. New attended the University of Toronto, where she graduated with distinction in 2005 as a Doctor of Dental Surgery. After graduation, she completed a general practice residency at the University of Alberta in Edmonton, then came to Burlington in 2006.
During her residency, Dr. New developed advanced skills in oral surgery and sedation, and she gained valuable experience working with medically compromised and severely anxious patients. Although she now practices a wide scope of general dentistry, she still enjoys performing dental surgery procedures such as wisdom teeth extractions and dental implant placement. She also continues to help anxious patients manage their anxiety and feel more comfortable during treatment.
Dr. New's dedication to her patients has earned her a reputation as an exceptional dentist, and she has built many long-term relationships with our patients and their families.
In her spare time, Dr. New enjoys spending time with her family. They love traveling and going on hikes together.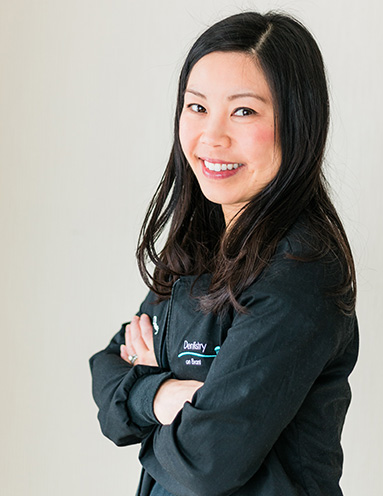 Dr. Linda Dang
Dr. Dang is a graduate of University of Toronto, where she received her Doctorate of Dental Surgery. She specializes in advanced procedures such as root canal treatment, dental implants, and complicated surgical extractions, including wisdom tooth extractions. She also provides sedation for children and adults, and cosmetic restorative dentistry.
She has a deep interest in education, and is always taking additional continuing education courses to keep her skills current. An active member of the Ontario Dental Association and the Academy of General Dentistry, Dr. Dang is a dedicated and talented dentist who enjoys connecting with her patients and making them feel comfortable.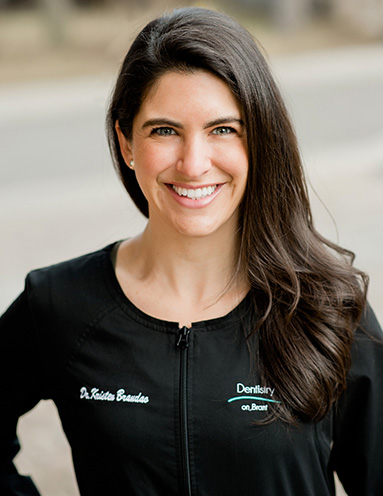 Dr. Kristen Brandao
Dr. Brandao studied at the University of Western Ontario, where she earned Bachelors' and Masters' degrees before going to the University of Toronto to study dentistry. She graduated with her Doctorate of Dental Surgery in 2013 and went into practice.
Dr. Brandao is dedicated to providing the highest quality of care to her patients, who describe her as knowledgeable, compassionate, and proficient. She's a member of the Royal College of Dentists of Ontario and the Ontario Dental Association.
When she's not in the office, Dr. Brandao enjoys playing soccer, going to concerts, and travelling. She lives in Burlington with her family.
The Team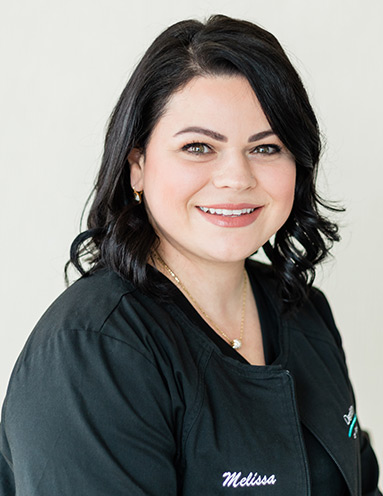 Melissa - Office Manager
Melissa keeps our office running smoothly. A Hamilton native, she is trained as a Dental Assistant, and worked as a Certified Level II Assistant for 15 years. She joined our office as the Office Manager in 2017. She's an active member of the Ontario Dental Assistants Association, and continues to keep her assisting skills up to date. Outside work, Melissa loves to spend time with her family.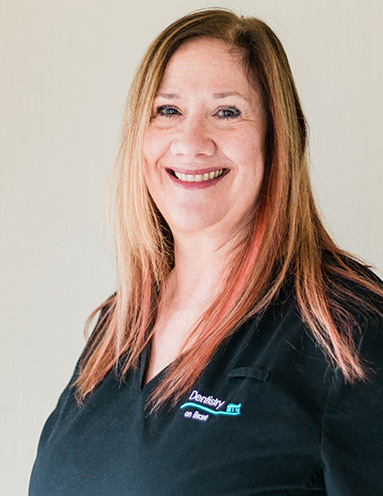 Paula - Receptionist
Paula is the friendly and happy person who greets you when you come to our office! She's been on our team since 2014 and loves serving the many patients she has come to know over the years. She's the go-to person for all your scheduling and dental insurance needs. Paula was born and raised in Burlington. She's a proud mother and loves spending time at the cottage with her friends, family and dogs.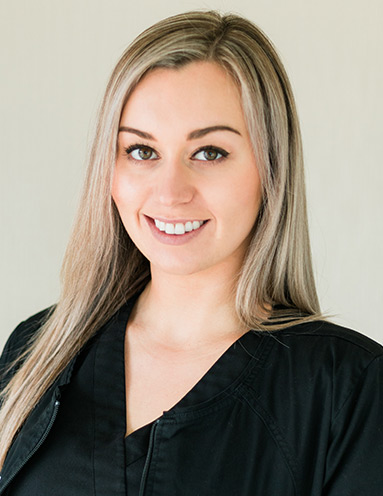 Sarah - Certified Level II Dental Assistant
Sarah graduated from George Brown College as a Level II Dental Assistant in 2013 before joining our practice. She takes great pride in her career and is dedicated to her patients. Outside work, Sarah loves spending time on the ranch with her horse, Kyanna.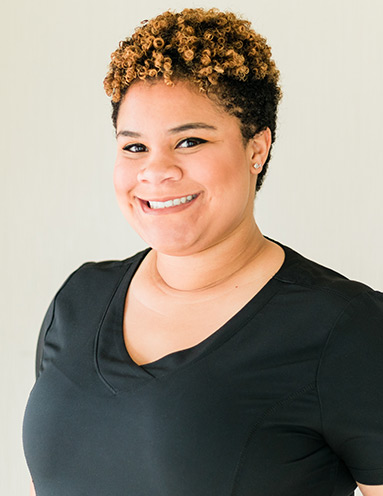 Christa - Registered Dental Hygienist
Christa graduated from George Brown College in 2009 and has been a dental hygienist for over ten years. She loves educating her patients on their dental health and celebrating the progress they make together. Christa loves the outdoors and she enjoys travelling and spending time with her dog.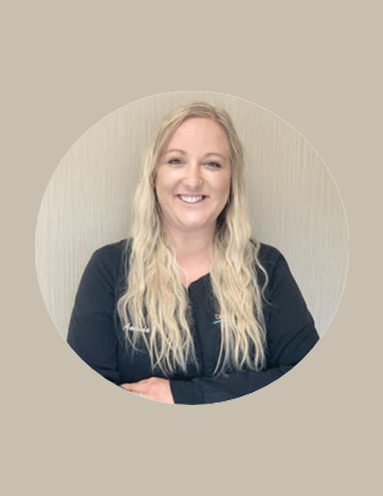 Amanda - Certified Dental Assistant/Receptionist
Amanda graduated from the National Academy of Health and Business in 2015with a diploma in Chairside Dental Assisting. She completed her co-op placement with us and has been on our team ever since! A born learner, Amanda has a passion for learning everything she can about dentistry. When she's not at the office, Amanda enjoys being outdoors, watching Netflix, and spending time with her friends and family.